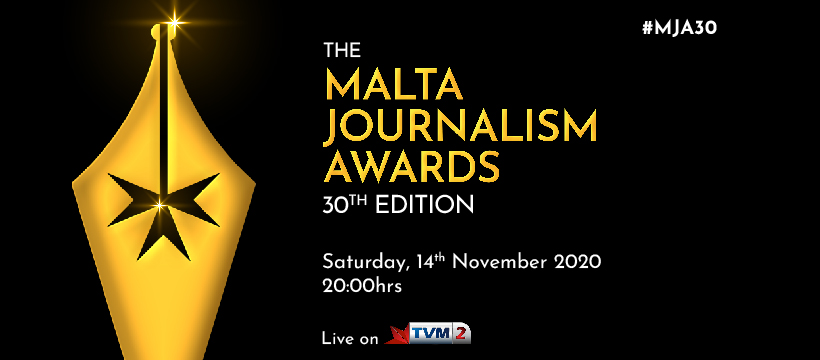 Panel A | Report
JUDGES – Louiselle Vassallo (Chair) | Prof Ġorg Mallia | Yannick Pace
All entries were assessed independently by the judges forming part of this panel, since no one was privy to who the other jury members were. This ensured that an objective critique was carried out before the panel met, virtually, to discuss the finalists. Additionally, there was consensus in every category as to who the winners and runners up should be.
The SPECIALISED category was somewhat tricky to evaluate, since multiple media platforms were presented, and while come criteria may be applied across the board, in some cases, particular considerations needed to be made. Additionally, many of the entries were not really suitable in terms of competition standards, and the general feeling was that, in some cases, participants submitted their work without taking into consideration the level of excellence expected. Notwithstanding, the top three submissions were, indeed, of high quality: the winning entry, by Jonathan Cilia (Lovin'Malta | My Life is Pastizzi) is an outstanding piece of work, for its polished production value and effective audio-visual storytelling structure. Second placed Noel D'anastas (Il-Mument | Issa li ż-żmien kien inbidel … Id-divertiment mużikali fis-snin sittin u sebgħin) presented a thoroughly researched piece, also making use of effective layout, thus enhancing the narrative, whilst third placed CVC (TVM | Malta u lil Hinn Minnha) was testament to how dedication and the adherence to long-standing production standards, ultimately lead to effective productions.
In contrast, more than half of submissions for the INVESTIGATIVE category were of a high standard. Times of Malta's Herman Grech and Jacob Borg placed first for sheer determination and thoroughness in the unravelling of complex revelations in relation to arrests and unfolding developments linked to the assassination of Daphne Caruana Galizia. Xarabank's submission (TVM | Facebook probe) placed second, and showed how journalistic initiatives lead to compelling stories of universal interest, whilst Lovin'Malta's multiple probes into the arrest of Yorgen Fenech, also in relation to Caruana Galizia' murder, placed third, also for showing perseverance. The panel is also giving an Honorary Mention to MaltaToday journalists for their Tunisian plundering at sea investigation.
The submissions for the ONLINE category were, overall, quite weak, bar a few exceptions. Lovin'Malta's live Blog fo events as they unfolded on 27 and 28 November 2019 is an excellent example of online journalism, showing how a complex narrative can be presented with clarity and dynamism. In second place, Xarabank's feature on "L-Amerikana" tapped into a topical story whilst raising awareness on the dangers of exploitation, whilst Antonia Micallef (TVM | Il-Ftira Malta) placed third, for cultural value, simplicity and effectiveness.
The HUMAN INTEREST Category was by far the most popular with 32 submissions, however, the panel feel that, generally, the standard was poor and, in some cases, submissions were badly placed. In spite of this, four submissions stood out. Times of Malta's Diana Cacciattolo's story on sole-surviving migrant Mohamed Adam Oga, placed first for her professionalism, sensitivity and universality or narrative. Xarabank's "Prigunieri" place second, highlighting the plight of Maltese families living in dire conditions, whilst Jonathan Farrugia's "Pass Pass Ghal Auschwitz" placed third, again for universality, production value and versatility. Additionally, an Honorary Mention goes to Xarabank for their piece about a woman who is being denied permission to marry her boyfriend, currently a prisoner at the Cordin Correctional Facility.
It is somewhat disappointing to note that there were only four submissions to the CARTOON Category, with only two artists taking part. Steve Bonello's Enough placed first, for clarity, strong social comment and excellent design. The Malta Independent's entry Valletta is Burning, placed second for its clear and unambiguous narrative, whilst Steve Bonello's Joker placed third.
The PHOTO NEWS Category was perhaps one of the strongest, with the vast majority of the entries submitted being of a high standard with compelling narrative value. Darrin Zammit Lupi's shot of migrants running past a burning vehicle during a riot in the in Hal Far Open Centre placed first. Jonathan Borg's submission of Daphne Caruana Galizia's parents in a rare display of emotion placed second, whilst Mark Zammit Cordina's shot of businessman Yorgen Fenech walking to court placed third. In all cases, photos were judged for composition, difficulty, artistic value, newsworthiness and narrative value, for which all three scored very high points. Honorary Mentions also go to submissions by Dominic Aquilina and Miguel Xuereb.
The PHOTO OPEN Category also had some compelling submissions. Similar criteria as for the Photo News Category were applied, with artistic value being given m ore weight in this case. First prize went to Darrin Zammit Lupi for Lightening Strike, second place to Jonathan Borg for his photo of young swimmer encountering a jellyfish, and third place to Miguela Xuereb for her entry entitled Shadow. In this category the panel would also like to give Honorary Mentions to Alan Saliba and Mark Zammit Cordina.
OVERALL COMMENT PANEL A
Presently, with all the information available on various platforms, whether legacy or new media, it has become all the more crucial for journalism to thrive as a profession. Ultimately, citizens depend on journalists to deliver news stories that shape our lives, values and choices. Some might argue that each and every individual is free to share information, however, one must acknowledge that journalists operate within a set a values and sense of responsibility towards the consumer. It is, therefore, imperative that organisations like the IĠM, through events like these awards, as well as ongoing support, continue to encourage all members of the profession in their pursuit of stories that need to be told.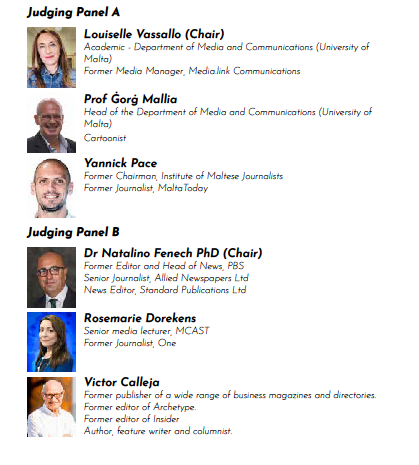 Panel B | Report
JUDGES – Dr Natalino Fenech (Chair) | Rosemarie Dorekens | Victor Calleja
PRINT JOURNALISM
There were only six individual journalists who submitted entries for this category of which two had very strong submissions. One entry in this category was submitted into the wrong category and hence was not considered by the judges. There was a big discrepancy between the winning entries and the rest. The judges feel that throughout the year there were several stories in print media which could have easily made it to the final, but which were not submitted.
AUDIOVISUAL NEWS/CURRENT AFFAIRS
There were 13 entries by ten journalists in this category. There was very little difference in points between the winning entry and the second and third placed entries. But here again there was a marked difference between the shortlisted entries and the rest. Some of the stories entered in this category were shallow, others were single source stories or looked at events that may have been a good filler story on the day but which is not what is expected of annual journalism awards.
AUDIOVISUAL – FOOTAGE
A total of six people filed seven pieces in the raw footage category. Four of them scored very high points. This footage was mainly of active situations of conflict and tension and some were taken at awkward times. Some of the journalists showed flair, nerve and initiative in the way the footage was taken and this was what the judges gave most points for. Considering that footage is used on traditional as well as online media platforms, the judges expected more entries in this category.
BEST UPCOMING JOURNALIST
Only six people filed entries here. As with other categories there was a big discrepancy in quality of material submitted. Some were very good, others were good, but not award wining material, while others below the standard expected.
OPINION/EDITORIAL
Only three pieces were entered into this category, which was a bit surprising considering the plethora of media outlets. The winning entry was highly commended not just for creating a new style that is popular with a section of the population, some of whom probably do not follow traditional media, but for the timeliness, research, depth and acute sense of balance in the submitted piece. Balance does not mean criticising or praising both sides of an argument in an equal manner. One cannot praise something that is bad to create a balance.
FEATURE
A total of 13 pieces by 10 individuals or media houses were submitted. There were four very strong contenders in this category but the winning piece was commended for the depth of the research, the sensitivity with which it was conveyed, the plethora of people interviewed, the editing skills involved and many other positive factors. The panel felt this feature was exemplary of the way features should be. Audio visual features have an edge over written ones, but the judges could not help note that one of those submitting his piece for this award presented an advertorial while another submitted a wire feature, which showed little flair and initiative.
AUDIO – RADIO/PODCAST
The judges shortlisted two of which one was declared winner. Although judges felt both pieces could have been more creative in their approach, the winning piece had a more fresh approach and this kind of interview had a lot of appeal for many, using media for one's enjoyment, not necessarily didactic or overwhelming with expert opinion. Common people matter too and should be given a voice. They often have a good story to tell if the interviewer knows what needs to be done.
SPORT JOURNALISM
A total of 9 pieces by 5 journalists were submitted in the sports category, a number considered by judges to be very small and which in itself can indicate that level of local sports journalists who may feel their jobs are not up to the required level not to submit entries for the Malta Journalism Awards. The winning entry was an exemplary piece in the amount of research that went into it. Most other stories were considered to be of rather low quality. Much better was expected.
SPORT PHOTOGRAPHY
A total of 12 submissions from five photographers, three of which were very powerful, and which were very timely shot capturing action and emotion much better than some of the rest did. The judges highly commended the three shortlisted candidates for their very high standards.
OVERALL COMMENT PANEL B
The judges evaluated the pieces individually and had no knowledge of who the other judges in the panel were and were only made aware of each other's points in an online meeting when they were introduced to each other.
A very positive aspect of this judging panel was that there was very little difference between them in their assessment of who the winners should be.
Judges felt there was a lack of investigative pieces entered for the award and the few that there were, were written in a way that may not have left the reader/viewer with doubts about the authenticity of the claims.
The judges were very dissatisfied with the overall quality of the submissions entered. There may be various reasons for this ranging from laziness or lack of interest in the awards per se to people working in the media knowing their pieces are not up to scratch. Some of the submissions showed lack of several aspects, indicating the pieces were done hurriedly, perhaps under pressure of work because journalists are required to work on several stories at the same time because of lack of resources in newsrooms.
The judges also noted there was an was under representation of journalists from several newsrooms and IGM should strive to find out why many journalists, both freelance and those in the private sector, seem uninterested in these awards. It was also noted that more males submitted their work than female journalists. The judges felt it was important to underline this fact, the reasons for which should also be investigated if IGM decides to find out about lack of overall participation by many.
Judges felt that in all categories, submitted pieces showed there was need for more planning and execution of work and some of the winning pieces showed that this was not an impossible task as when adequate resources and planning was involved, there were a few excellent pieces that shone above the rest, and these showed that where there was a will, there could also be a way.