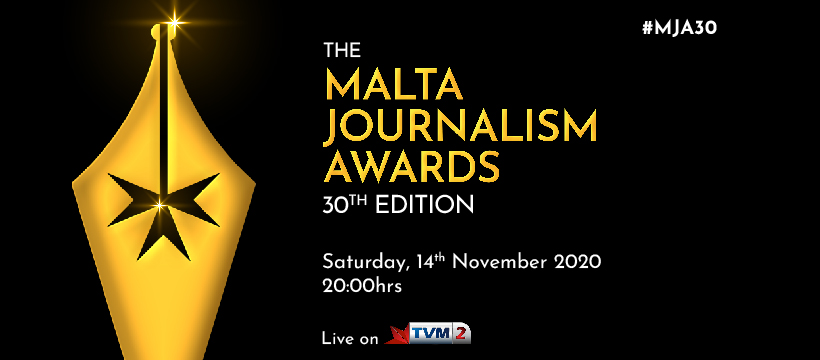 Top three media houses with the largest amount of finalists announced
New Trophy and Hosts unveiled
Television Malta, Times of Malta and Lovin Malta are the three media houses with the largest amount of finalists in ahead of the final ceremony of the 30th Edition of the Malta Journalism Awards, which is just one week away.
During a press conference, the organising Commission of #MJA30 revealed that Valerie Vella and Colin Fitz will be hosting the final ceremony on Saturday 14th November 2020 that will be broadcasted live on TVM2. One and Net journalists Kelly Peplow and Keane Cutajar will be hosting the Red Carpet Show that will preceed the final ceremony, with the live transmission starting at 2000hrs and will also be simultaneously broadcasted on most of Malta's media houses facebook pages.
This year's edition will be held at Corinthia St George's main hall, with the organisers stating that they found full cooperation to adhere to the regulations established by the Health Authorities, aimed at curbing the spread of COVID-19. Amongst others, the event will be limited to less than 100 guests, including H.E. Dr George Vella, President of Malta, who accepted to host the Awards under his patronage and will be delivering his annual speech on the State of Journalism in Malta; along with H.E. Dr Marie-Louise Coleiro Preca, President Emeritus, who is chairing the Gold Award Jury Panel.
This year's edition is also special since it is being organised by the newly establish Commission entrusted with the change in the awards Rules and regulations following a consultation process held during the previous months. This included a change in the nomination proceedures, with the Institute for Maltese Journalists investing in a new online platform to cater for such needs. The Commission is also responsible for the logistical aspects of awards, that will be broadcast for the first time on the national TV station.
A total of 18 awards shall be awarded, including the Gold Award which was presented for the first time in 1998, with Fr Joe Borg being the first journalist to be awarded with such a recognition.
#MJA30 is being supported by various sponsors, with Bank of Valletta and Tech.mt being the main sponsors for this year's edition.
The awards are also being organised in collaboration with Malta Gaming Authority, Malta Information Technology Agency, Broadcasting Authority, the Good Causes Fund, Farsons Foundation, Malta Public Transport, Izibet, The Convenience Shop, Parliamentary Secretariat for Youth, Sport and Volunatry Organisations, Britannia Travel u Heritage Malta.